Despite recent advances, older adults suffering with depression often do not seek or receive effective treatment. Older adults at particularly high risk for not receiving effective depression care include minorities, older men, and those with multiple medical problems, less formal education, and/or lower socioeconomic status. Closing gaps in care to improve access to effective depression treatment is important and timely. One of the most promising approaches to improving the reach, and effectiveness of late-life depression care, is through the systematic involvement of community-based organizations (CBOs), family, and primary care clinics that work with older adults. These community-engaged partnerships have tremendous potential to improve:
access to care;
engagement in treatment;
the patient care experience;
quality of care for depressed older adults; and
ability to address social needs
A partnership with the University of Washington, and the University of California, Davis, to implement the Care Partners: Bridging Families, Clinics, and Communities to Advance Late-Life Depression Care project funded eleven partnerships in California since 2014 to develop and deliver innovative approaches to treat depression in older adults.
---
Over course of project (October 2015 – July 2020), the 12 participating sites enrolled 939 patients.
Participants in Care Partners are residents of the state of California, 65+ years or older, have scored 10 or higher on the PHQ-9 and are treated with evidence-based depression care. Click here to see more interim data.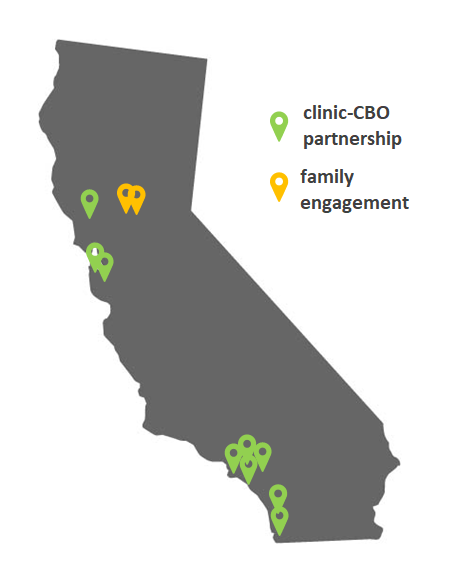 ---
Care Partners Blog Posts:
Learning Collaborative to Improve Depression Care through Community Partnerships
Stay Connected Program Offers Strategies, Resources to Deal with COVID-19 Isolation
Addressing Unmet Social Needs as Part of Integrated Depression Care
Learning Collaborative Cultivates Innovation in Depression Care
For more Care Partners related publications, click here.